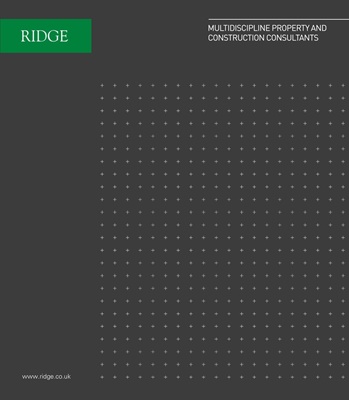 Planning Webinars
The planning team at Ridge is delighted
that the recent virtual 'Planning Matters
Seminars' have been a success, Paul Fong
has now hosted two seminars, watch
online using the links below:
n Para 79 dwellings
n Changes to the Patterns of
Development Post Covid-19
Exercise for Victory
Over 200 of our employees came together
on VE Day and raised over £15,000 for the
University of Oxford supporting their timecritical research to deliver a vaccine in the
fight against COVID-19.
New Fellows!
Congratulations to Richard Hand, Partner
now a fellow of CIH, and Rosie Camburn,
Associate now a fellow of FIStructE
Cycling and Walking Initiatives - we can help!
Our fully integrated team of Project & Programme managers are
working with Stockport Council to deliver part of the new cityregion wide Bee Network which will consist of more than
1800
miles of routes making it the largest joined-up walking and cycling
infrastructure in the UK.... Read more
View our latest awards
Company News
An award winning 2020!
Keep up to date on our website - link below